Good Stuff #2
TRAVEL
To the living churches of an ancient kingdom. The ancient Aksumite Kingdom, now a part of Ethiopia, was among the first in the world to adopt Christianity as the official state religion. Lalibela, a town in the Lasta Amhara region, renowned for its rock-cut monolithic churches, is now a UNESCO World Heritage Site and has the best-known cluster of these living churches. But even far-flung regions like Tigray contain some of the most magnificent murals of the Aksumite Kingdom.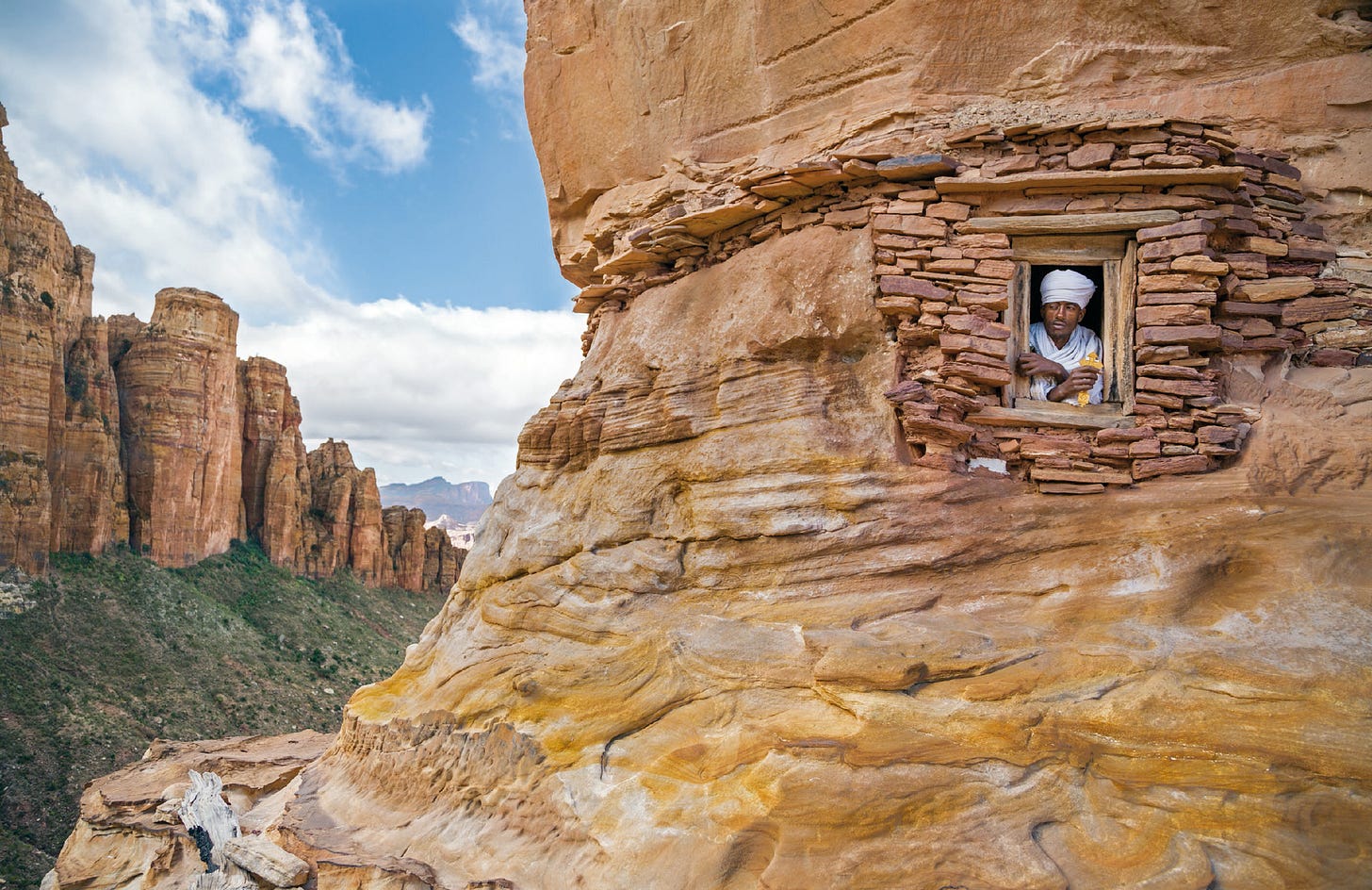 ---
LISTEN
It's been 2+ months for most of us in lockdown, in isolation. This distancing has made us reminisce about the good times with our loved ones the most. I have thankfully been quarantined at home, with my family, and I have been thinking about what I miss the most. I miss the seemingly everyday occurrences, like having bun maska at my favourite Shahpur Jat tapri, window shopping for the thrill of trying out new outfits, people-watching at a cafe. Also, (un?) surprisingly, I miss the buzz of the city.
---
READ
Chronobiology. Our biological clocks. Sleeping troubles. And living truly timeless.
---
Hola peeps!
Hope you all have been well :) I am super stoked to be sharing with you Good Stuff Journal's new project, "Everyday People/People's Everyday", a series of one on one live sessions, the first of which we are hosting this Sunday, 24th May, 8 PM IST. If you have any questions about pursuing photography as a career or the changing scenario in India, do revert to this email. Come hang with us with a cuppa' coffee on Instagram!
Love,
N
WE ARE DOING THIS!!! So excited to be announcing our new project, "Everyday People/People's Everyday". It will be a series of one on one live sessions, with people who inspire us with their work. The intent is to know their craft, and know them beyond their craft, what engages them otherwise and all their quirks.
For the first episode of EP/PE we have photographer Debjit Banerjee. This Sunday evening we talk with him about all things photography, Dilli and the love for coffee.
If you have any questions for him, do drop it in the comments here or during the live session.
Can't wait to see you all on 24th, at 8 PM IST!
#everydaypeoplepeopleseveryday
#eppe
#goodstuffjournal
---
As always, any thoughts or feedback are always welcome. Share your thoughts with us!
If you enjoyed this, do consider spreading the love and sharing us with a friend :)